A residential weekend retreat and workshop retreat offering a foundation in rekindling your Ecofluency ability, i.e. the science, art, and magic of two-way communication with the rest of Nature.
More information and bookings here.
Early bird 15% discount for the first few tickets booked! Use ECO_15 when booking.
About the event

Held at exquisite Embercombe, a leading eco-retreat venue in a lush Devonshire valley, this residential weekend retreat and workshop retreat offers a foundation in rekindling your Ecofluency ability.
Ecofluency is the science, art, and magic of two-way communication with the rest of Nature. We are all born with this skill, because humans are Nature, and this way of communicating goes beyond all languages.
By expanding our range of our sensory awareness, we can dialogue with any aspect of the more-than-human world. The principles are the same, whether you choose to converse with, small plants or towering trees, tiny insects or large mammals, clods of compost or constellations of stars.
Although many have forgotten how to use this ancient ability, ecofluency offers an opportunity to reclaim the power of this birth-right, to benefit all life. It allows access to the deeper knowledge and wisdom of Nature, that is not often available to our everyday human minds.
Ecofluency is a critical skill for empowering physical, mental and emotional vitality, to grow beyond resilience into a dynamic state of thriving. It offers a key to unlock greater joy and harmony in our relationships with ourselves, other humans, and the rest of Nature.
Communicating with Nature lets us make more holistic and efficient practical decisions in all aspects of our lives: growing food, choosing a place to live, understanding the behaviour of wild or domestic animals, creating rituals and ceremonies for inspiration and abundance, expanding your professional work in ecological alignment, or healing traumas to grow spiritually and become whole.
Human existence with other species depends on dialogue with them, as they call on us to co-evolve and create our future in alignment with Nature.
The world is waiting - join the conversation!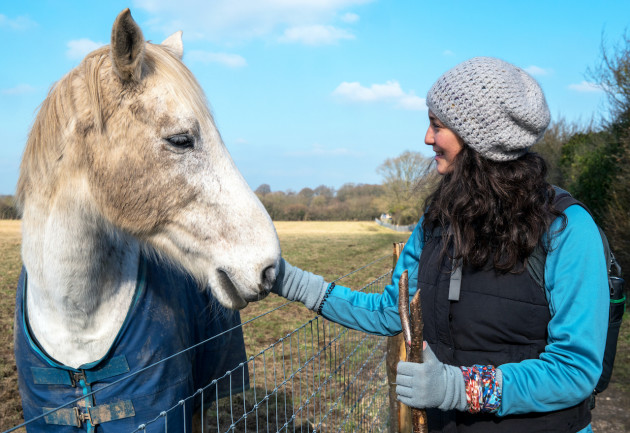 What's included:
~ Comfortable, shared eco-accommodation in a yurt village (2 people per yurt), bedding included
~ All meals, delicious, nutrient-dense, vegan, ethically sourced, and created on-site, plus teas and coffees
~ Teaching & notes on the 9-step Ecofluency guide to Nature communication, including practicality, clarity, nervous system regulation, and energetic safety (psychic hygiene)
~ Multiple opportunities to exercise your rekindled Ecofluency ability throughout the weekend, within 50 acres of ancient woodland, meadows and gardens in the magical Devonshire valley of Embercombe

~ An Autumn Equinox ceremony in a stone circle on the Saturday evening that will be co-created with the participants, the trees, the stones, and the land
~ Wild swimming, fire-side singing, and star gazing
~ A follow-up group call one month after the event, and discounted rates for individual consultations for three months after the event, to help integrate your Ecofluency experience into daily life
~ Access to the private Ecofluency hub, to get or stay in touch with previous Ecofluency 'alumni', and apply a range of exercises from the database to continue developing your practice
This retreat is for anybody interested in Nature communication, including those who practice it already (though no previous experience is required).
Read testimonials about Ecofluency's teaching events here.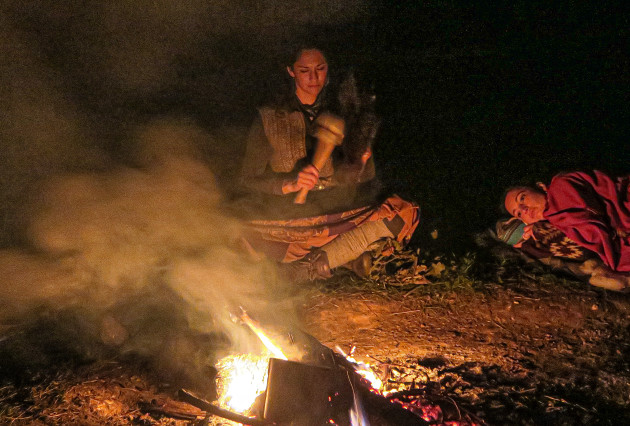 Fire communion at Wider Horizons youth gathering, UK, 2021, photo by Jethro Tanner



When and where
The workshop will be held from 16:00 on Friday 23 September until 16:00 on Sunday 25 September (BST), at Embercombe, Higher Ashton, Exeter, Devon, EX6 7QQ.
Embercombe is in the countryside, 8 miles from Exeter, just over 1.5 hours from Bristol and 3.5 hours from London by car (without traffic). Parking is available if arriving by car. If arriving by train or bus in Exeter, pickups can be arranged at an additional cost.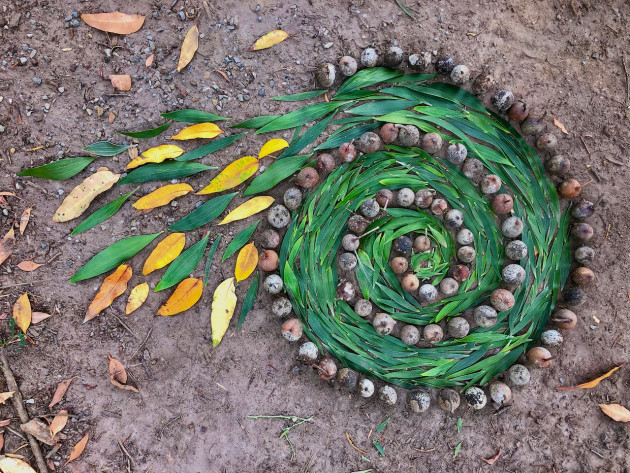 About the facilitator
This event is presented by me, Dr Saskia von Diest. I have a background in agricultural research, focusing on intuitive farming, and have been communicating with various forms of Nature for the last 10 years.
I also have 14 years of experience in teaching and facilitating through various forms and in many countries. My passion is creating opportunities for others to have their own experience of communicating with non-human Nature, and develop that for their own and the collective benefit.
In 2021, I founded Ecofluency, an organisation that offers consulting, teaching and facilitation in Nature communication, and promotes other voices in this field.
Read more about me here.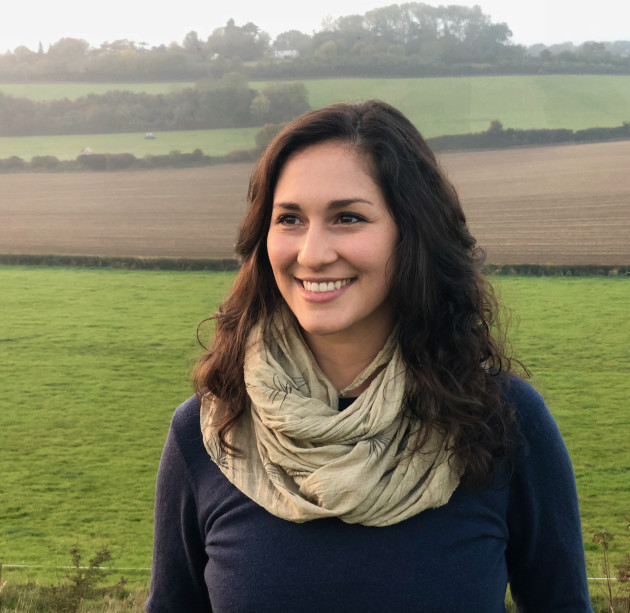 What to bring and prepare
Please arrive up to 30min before the start of the event to park, settle in and have a cup of tea, so that we can begin on time.
All meals are provided, and are vegan, ethically sourced, and created on-site. Please inform me of any specific dietary requirements up to a week before the event. Catering is provided by Embercombe, so I cannot guarantee that your needs will be met if I am notified within the week of the event.
Please bring:
warm & wet weather clothing, including sturdy outdoor shoes, and something comfortable to sit on outdoors (e.g. a sheepskin)
your own snacks, if you wish, but please don't bring any alcohol or other intoxicants
ear plugs, if you're a light sleeper
writing and/or drawing materials - workshop notes will be provided, on which you can also write)
a ceremonial item to place on the altar (this is optional, and you can take it home with you afterwards),
an open mind and open heart!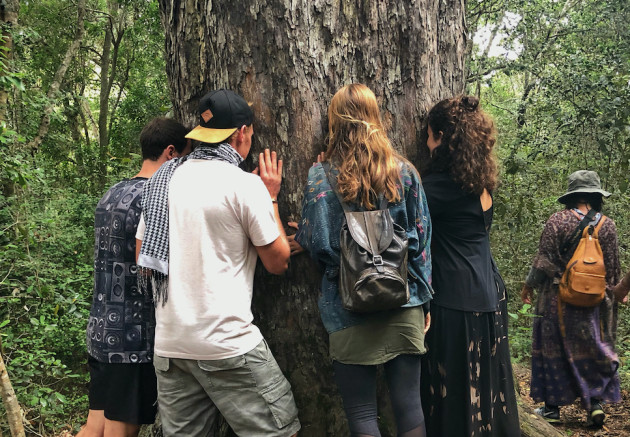 Tree communication workshop in South Africa, 2019
Tickets
Spaces are limited to ensure tailored individual attention for participants.
My mission is to make this work more accessible, so two types of tickets are available:
normal tickets at £425
reduced tickets at £375 for farmers, beekeepers & students
Bookings can be made here. Early bird 15% discount for the first few tickets! Use ECO_15 when booking.
In addition, all participants will receive a 10% reduction on fees for any Ecofluency consults, workshops & courses offered for 3 months after this workshop.
You will also be given access to the private Ecofluency hub, to get or stay in touch with previous Ecofluency 'alumni', apply a range of exercises from the database to continue developing your practice, and browse FAQs from previous courses and workshops.
Contact
For any queries, please contact Saskia at saskia(at)ecofluency(dot)org.
To find out more about Ecofluency, please visit https://www.ecofluency.org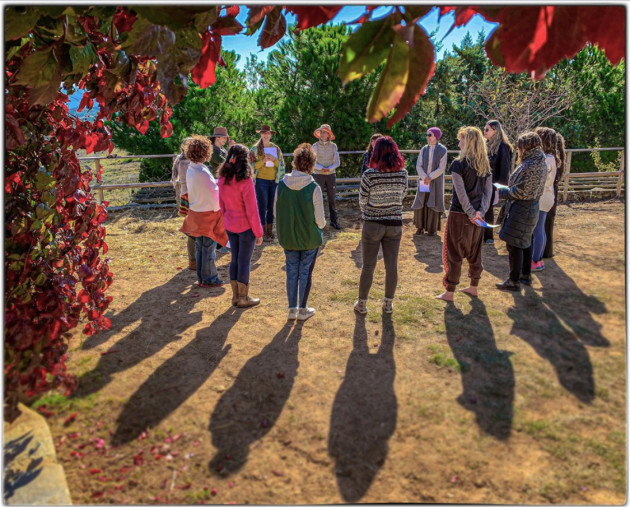 Animal communication workshop in Greece, 2018, photo by Michael Tsimperopoulos
NB: Service policy
The course fee includes all tuition, accommodation and meals.
Cancellation and refund:

If I cancel or postpone the event for any reason, ticket(s) will be refunded in full, but no liability can be accepted for any consequential losses you might incur.
If for any reason you need to cancel, I offer a partial refund, or a ticket transfer:

Ticket(s) cancelled up to 6 weeks before the event are fully refunded.
Ticket(s) can be 50% refunded up to 21 days before the event, for the full amount of the ticket. The remaining 50% may be transferred as part or all of your ticket to a different event, at the discretion of the organisor. Later cancellations will incur the whole fee.
You may transfer your ticket(s) to a friend of yours. To do this, please email me to provide contact details of the new ticket holder(s) at least 7 working days before the event so that I can give them any necessary details about the workshop.
No-shows without the above notice are not entitled to refunds, exchanges or transfers.
Any travel, or other arrangements, made for your participation are entirely made at your own risk. You are advised to insure yourself against any losses due to either you having to cancel your place, or the course being cancelled.
Unless I have been notified explicitly of any dietary, or other requirements at the time of booking or at least a week before the event, I cannot guarantee that they will be met.
I reserve the right to limit bookings, or reject a booking, without explanation.
My duty is to the highest and deepest well-being of the group attending the event. I will do my best to facilitate and/or mediate any difficulty that may arise, but I reserve the right to require a participant to leave during the event if his, her, or their continuing attendance is not in the best interests of the other participants, without a refund.
Printed notes will be provided during the workshop. These are strictly for your own use, and may not be copied, edited or distributed in any form. All workshop content is copyright of Saskia von Diest, all rights reserved.
I respect your privacy. I do not, and will not, sell your personal information. I will only collect, store and use your personal information for defined purposes. I use your information to support and enhance my relationship with you, to process your booking, provide services and support, and share workshop, product, service, news and offerings with you. Please see more under my privacy policy.